The Makings of a Pin-Worthy Engagement Party
Wedding and holiday season have come to a screeching halt, but that doesn't mean the fun has to stop anytime soon. Not to fret, party-people! Engagement season is still in full swing until Valentine's Day, and I've got the scoop on how to pull off a pin-worthy engagement party of any to-be-weds' dreams.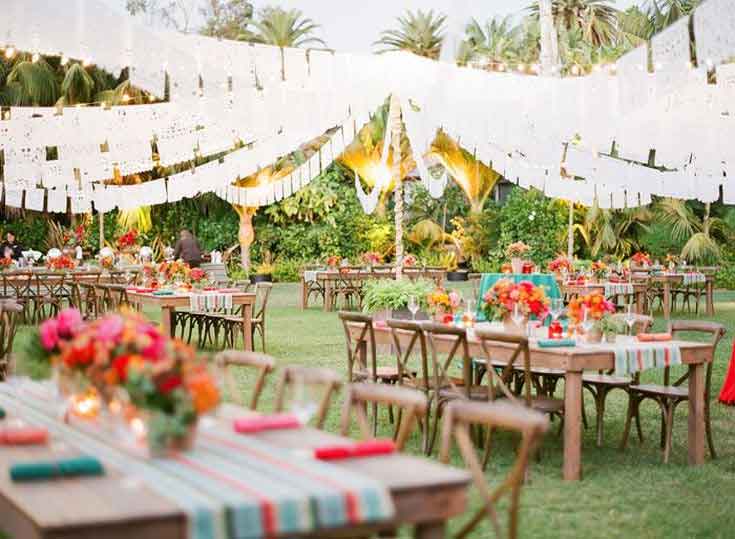 Theme
Pinterest inspires endless theme options, one of which is guaranteed to be a match made in heaven for the to-be-weds. But how does one narrow down all of those choices? First, build off the season, then consider the couple. The chilly months make an ideal backdrop to throw the fiancés a fireside fete, complete with flannel throws and a (spiked) hot cocoa bar.
Hosting a spring or summertime soiree for a lively, fun-loving couple? A tropical luau or tequila-tasting fiesta will not disappoint. Bonus points if Hawaii or Mexico are their dream honeymoon destination.
Invites
Once your theme is in place, it's time to spread the word. Guests form their first impressions of the engagement party from the invitations they receive, so attention must be paid! The colors, patterns and fonts used will set the tone of the event, giving guests a proper sneak peek of what to expect when they attend.
Eats
Fancy foods aren't for everyone. But tacos? Tacos are universal crowd-pleasers. Pleasing though they may be, they won't work for every menu. The rule of thumb for the menu is opting for thoughtful, themed dishes that are both simple and scrumptious. For example, carne asada tacos are to a fiesta fete as chicken and waffles are to bubbly brunches.
Drinks
Use theme as an ultimate point of inspiration for all things booze. Spiked berry lemonade or DIY watermelon keg are seamless complements for casual barbecues. Want to spice things up? Coconut mango (plus jalapeno!) margaritas will bring the heat to any tropical festivity.
Trying to keep it simple, without losing significance? Pop open a bottle of burgundy or blush from the year the couple met, or supply beers from their favorite local brewery. Trust me, the thoughtfulness will not be lost on them.
Sweets
Nothing quite spells out "engagement" like a diamond ring. A close second, though? A diamond-decked dessert table.
Decadent, frosted doughnuts, iced-out cookies and a "carat" cake by the slice — yes, yes and yes. Who knew this romantic occasion could get any sweeter?
Barware
Even the smallest (and least expensive) decorative details can deliver the biggest style impact on a party. Case and point: barware accessories.
Cheeky cocktail napkins, sparkling stir sticks and personalized keepsake cups are all the stylish necessities a host needs to dress up their bar.
Banners
String their future wedding date, initials or even their future surname. Too many options? I'll narrow it down for you.
This glittering "She Said Yaaas" number goes with any and every theme and, in turn, is everything. Trust me when I say the bride will say "yaaas" all over again when she sees it.
Balloons
Love is in the air, but there's always enough room to float a few fancy balloons. Longtime birthday staples, balloons are now the ultimate "x-marks-the-spot" for all of the best parties. Use balloons as photo props, easy-to-assemble backdrops or as a simple "welcome" at the front door.
They're available in a myriad of colors and complement every theme imaginable. Best of all, they're so cheap, serving hosts as the perfect, polished and pop-able touch of festivity for the engagement party without breaking the bank.
Photo-Ops + Backdrops
Pics or it didn't happen!"
This is the era in which we live, and for this reason photo props, backdrops and custom Snapchat filters are of utmost importance. Millennials have grown accustomed to trendy backdrops at any curated event, and their engagement party is not the time to disappoint.
So how to make this night one for the Instagram feed? Start by selecting a space with optimum lighting for your DIY photo booth, then clear away any surrounding clutter. From there, let your imagination (and theme) be your guide. Use a crisp, white bedsheet (hand-painted with the couples' wedding hashtag), metallic streamers or hand-strung flowers and foliage. Another jaw-dropping option? This ultra-etheral paper and ribbon draping situation. Gorg.
Now, Time to Plan a Pinterest-Perfect Wedding
Related article: Buy Furniture for wedding (But Keep Forever)
Need to order wedding furniture? Welcome to contact!
Please follow our Instagram or Facebook to get more latest news.